The Center for Collaborative Economics is connecting world-wide cryptocurrency donors and nonprofits aligned with the United Nations' Sustainable Development Goals. We utilize decentralized finance for transparency and global inclusivity, while meeting regulatory standards for 501c3 compliance and charitable contribution tax deductions.
We are partnering with on-the-ground charities that understand their community's needs, cutting out middle-men, bureaucracy, and waste. Through direct communication and contributions, donors and recipients can collaborate on the most critical issues, seeing the effectiveness of their work.
Imagine a decentralized protocol where users could work together to collectively build a school, preserve a rainforest, fund road construction to a remote town, reward local shopping, or restock an empty shelf on the other side of the world.
At the Center for Cooperative Economics, we are building the tools for the twenty-first century global economy, allowing the world to invest in something good.
Economics no longer needs to be a zero-sum game.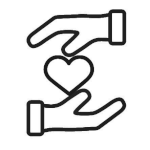 For Donors:


Give to local and global charities using popular cryptocurrencies and collaborate on meaningful projects. Reduce capital gains taxes and exchange fees, while receiving charitable tax deduction documents and unique rewards as Non-Fungible Tokens (NFTs) representing real-world products assisting in sustainable development.
For Non-Profits:

Utilizing decentralized ledger and blockchain technologies, we can guarantee transparency, security, and fast delivery of donations, while accessing the fastest growing market for charitable giving. Donations from cryptocurrencies have risen substantially in recent years, now totaling hundreds of millions of dollars annually.
For Businesses:

Maximize charitable tax deductions through a network of registered non-profits aligning with the United Nations Sustainable Development Goals. Raise brand awareness through collaborative and unique projects, or incentivize employee charity drives with unique rewards and impactful collaborations.